Roger Barnett Is Coming to Canada!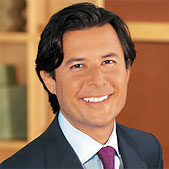 On October 23, 2011, Shaklee Corporation Chairman and CEO Roger Barnett will be in Toronto to share the story of Shaklee at a FREE, open opportunity meeting. So save the date and make plans to hear him! No one conveys the Shaklee dream, our rich heritage, and our unique position for growth better than Roger does. Being in the same room with his vision and his clarity is the perfect introduction to Shaklee.
He'll also be sharing how you can be part of making a difference – not just for yourselves and your families – but for those in your communities who are looking for an opportunity to create multi-generational, residual income and experience a better quality of life.
Use this brief video invitation to invite your friends and family to hear Roger tell the Shaklee story like no one else can. If you're from out of town, fill a bus, car pool, or come by train or plane. It'll be worth your while!
Stay tuned for more details about this not-to-be-missed meeting!